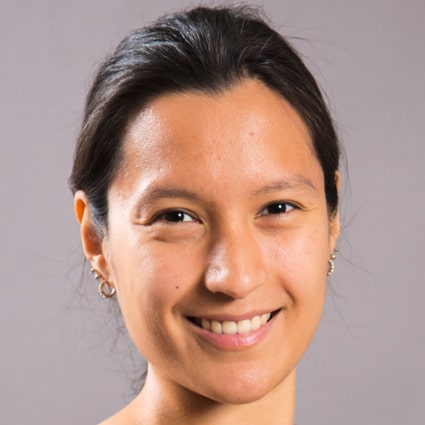 Camille Avestruz
Professor, Avestruz Lab for Computational Cosmology and Astrophysics; Physics Department, University of Michigan
About Camille
Dr. Avestruz is a computational cosmologist. She uses simulations to model, predict, and interpret observed large-scale cosmic structures. Her primary focus is to understand the evolution of galaxy clusters. These are the most massive gravitationally collapsed structures in our universe, comprised of hundreds to thousands of galaxies. Other aspects of her work are in modeling and software development efforts for the next decade of observations, which will produce unprecedented volumes of data.
---
Honors
NSF Graduate Research Fellowship (2010-2015)
D. Allan Bromley Graduate Fellowship in Physics, Yale University (2013)
AAS Beth Brown Memorial Award (2011)
Henry A. Boorse Prize in Physics, Barnard College (2009)
Margaret Kenny Jensen Prize in Mathematics, Barnard College (2008)
Mellon Mays Undergraduate Fellowship, Barnard College (2007-2009))
---
Education
Postdoc
KICP/EFI/Provost's, University of Chicago, 9/2015-8/2019
Ph.D.
Physics, Yale University, 9/2015
Bachelor's
Physics, Mathematics, Dance, Barnard College, 05/2009
Interested in
Mentoring
Mentorship
Speaking
Research Experience
Professional Service (e.g. review panels)
Science Outreach
Consulting
DEI/STEM Community Engagement
Contact Camille