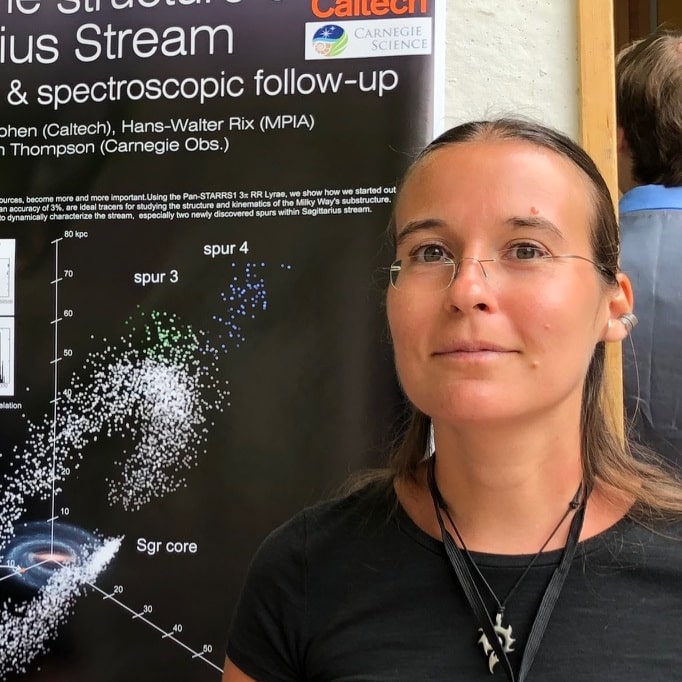 Nina Hernitschek
Postdoc, Department of Physics & Astronomy, Data Science Institute, Vanderbilt University
Research Focus
About Nina
Nina Hernitschek got her PhD from the International Max-Planck Research School (Heidelberg University) with her thesis on "Astrophysical Modeling of Time Domain Surveys" (thesis advisor: Hans-Walter Rix).
After her first postdoc position at Caltech, since fall 2019, she is a Postdoctoral Fellow at Vanderbilt University's Data Science Institute and the Vanderbilt Initiative in Data-intensive Astrophysics.
With expertise in machine learning, software development/engineering, computational optimization, signal detection, she is enthusiastic about developing efficient algorithms for large time-domain surveys to understand the history of our galaxy.
In spring 2023, Nina will join Universidad de Antofagasta as a new faculty member, contributing especially to the new graduate program in astroinformatics.
When not doing science, she enjoys hiking, crafts, reading Sci-Fi, tending a small garden and cooking.
As a first-generation student, she values mentoring a lot and contributes actively.
---
Honors
2022 - Vanderbilt Postdoctoral Mentor of the Year Award 2022, Honorable Mention Award
2021 - 2021 Cottrell Fellowship Award from Research Corporation for Science Advancement (RCSA)
2019 - DSI/VIDA Postdoctoral Fellow at Data Science Institute (DSI) and the Vanderbilt Initiative in Data-intensive Astrophysics (VIDA)
---
Education
Postdoc
Vanderbilt University, 09/2019
Caltech, 02/2017 - 09/2019
Ph.D.
Astronomy, Heidelberg University, 01/2017
Master's
Physics, Heidelberg University, 08/2013
Bachelor's
Physics, Heidelberg University, 06/2010
Interested in
Mentorship
Professional Service (e.g. review panels)
Science Outreach
DEI/STEM Community Engagement
Contact Nina