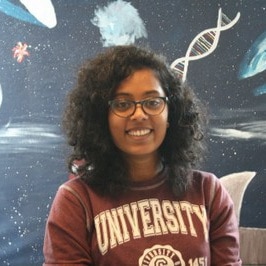 Shreeya Sushil Shetye
Postdoc, EPFL SB IPHYS GR-ANDERSON, EPFL, Switzerland
Research Focus
About Shreeya
Hi !! I am a stellar spectroscopist, currently focused on spectroscopy of the standard stellar candles (classical cepheids). I am curious about all kinds of chemistry and nucleosynthesis inside the stars. I collect stellar spectra from the telescopes, and then analyze it to understand their chemical composition, and the underlying processes that lead to this chemistry.
To balance all the excitement from stellar astronomy, I use my hobbies: drawing mandalas, knitting, cooking and running, as a relaxing therapy. I also enjoy traveling, and thanks to the nature of academia I get several opportunities to travel. I am very interested in science communication and outreach, to materialize this interest I started my YouTube channel to share information about astronomy in Marathi (my mother tongue, and one of the major languages of India).
---
Honors
2019 - Solvay PhD prize
FNRS postdoctoral fellow
FWO postdoctoral fellow
Scotland Saltaire Scholarship
---
Education
Postdoc
LASTRO, EPFL, Switzerland, 07/2021 - 10/2023
Institute of Astronomy and Astrophysics, 09/2019 - 05/2021
Ph.D.
Astronomy and Astrophysics, KU leuven and Universite libre de Bruxelles, 09/2019
Master's
Astronomy and Astrophysics, University of Glasgow, 09/2015
Bachelor's
Physics, University of Mumbai, 08/2014
Interested in
Mentoring
Speaking
Research Experience
Postdoc Fellowships
Professional Service (e.g. review panels)
Science Outreach
DEI/STEM Community Engagement